Dr Bipin R. Shah - Radiologist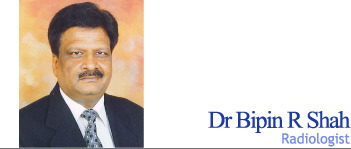 Qualifications
1977- M.B.B.S University of Mumbai
1980- Diploma in Medical Radiology & Diagnosis (D.M.R.D.) University of Mumbai
1981- Diploma in Medical Radiology & Electrology (DMRE) College of Physicians & Surgeons Mumbai
1981- Doctor of Medicine in Radiology (MD) University of Mumbai
Experience
Private Practice in Radiology & Ultrasound since 1982 as Consultant Specialist Division of Ultrasound, Centre for Diagnostic Imaging
Chief Honorary Radiologist & Ultrasonologist K. B. Bhabha Municipal Hospital, Bandra (W), Mumbai - 21 years
Visiting Radiologist S3 MRI Centre, Mumbai
Head and coordinator of Department of MRI Lilavati Hospital October 2001 to February 2003 (1 year 4 months)
Honorary Consultant IN M.R.I. Balabhai Nanavati Hospital May 1992 to December 2000 (8 years and 8 month)
Honorary radiologist, IIT. Hospital Mumbai Powai - 1984 thru 1986
Awards & Affiliations
Member American Institute of Ultrasound and Medicine (AIUM)
Founder Member & Honorary Treasurer - Indian Society for Prenatal Diagnosis & Therapy
President Maharashtra State Radiology Association (M.S.R.A). 1999-2000
Secretary M.S.R.A. 1998-1999
Central Council Member M.S.R.A. 1992, 1993
Treasurer M.S.R.A. 1987
Joint Secretary M.S.R.A. 1988
Won 1st Prize for Best Poster Presentation International Congress of Radiology 1998 on Topic "Shoulder Ultrasound Technique of Scanning
Presentation Poster on Topic of "Rotator Cuff Tear" Ultrasound & Arthroscopy correlation International Conference of Radiology 1998
Invited as a Guest Speaker at many local and National Medical Organization
International Fellowships
Diagnostic Ultrasound at Thomas Jefferson University Hospital, Philadelphia, U.S.A, 3 Months 1985
Magnetic Resonance Imaging at N.M.R. Institute, Pittsburg, U.S.A, 6 weeks 1991
Color Doppler & Fetal Echocardiography, at Mayoclinic Rochester, U.S.A, 3 weeks 1994
Mammography Mayoclinic Rochester, U.S.A, 3 weeks 1994
MR Angiography & Musculoskeletal Ultrasound at Henryford Hostipal Detroit, 3 weeks
Musculoskeletal Imaging at Henryford Hospital Detroit, 1 week, 2003
Papers, Presentation & Research
International Conferences Attended
Radiology Clinics of North America (RSNA) 2003 at Chicago
American Institute of ultrasound in Medicine (AIUM) 1994 at Baltimore
American Roentgen Ray Society (ARRS) 1991 at Boston Leading Edge 1985 at Atlantic city
3-D & 4-D ultrasound 1998 at Seoul south Korea
Invited by GE Company at Singapore to conduct workshop in Musculo-skeletal Ultrasound April-2000
Invited Paper Presentation & Workshop For Continuitie Education
Presented Paper on 'ERCP Role in Obstructive Jaundice' in Calcutta I.R.A. Conference 1981
Delivered lecture on "M.R.I.- Spine" at Surat Medical Association Seminar 1994
Delivered lecture on "M.R.I. General Application" at Homeopathy Medical College 1995
Invited as Guest Speaker in CUSP-96 at Chennai Topic "Ultrasound Shoulder Technique & Finding in Rotator Cuff Tear. "Conducted Workshop on Technique of Shoulder Ultrasound Scanning."
Delivered lecture on "Role of Color Doppler in Scrotal Ultrasound" Radiologist gathering in CORE Group meeting 1998
Invited Chairperson at USCON-VII meeting at Mumbai February 1998
Conducted Workshop and delivered lecture on Musculo-skeletal Ultrasound at Hyderabad January 2000.
Invited by GE Company at Singapore to conduct workshop in Musculo-skeletal Ultrasound April-2000.
Invited by Radiology Education Foundation to delivered lecture on "Shoulder Ultrasound and conducted workshop on "Shoulder Scanning technique." in advanced Ultrasound course in 1998 and 2000
Delivered lecture on "Color Doppler Role in Carotid artery Imaging" & conducted workshop on Musculo-skeletal Ultrasound at Meeraj June 2001 organizing by Wipro GE medical system.
Faculty member at "advance course in Orthopaedic" organised January 2001
Delivered guest lecture at Bombay Orthopaedic society clinical meeting in July 2001 on Topic "Ultrasonography in Musculo-tendinons disorders of Shoulder"
Conducted Workshop in Musculo-skeletal ultrasound at Mumbai Ultrasound course held at Reagent Hotel September 2001.
Deliver guest lecture an "Role of Ultrasound in Ankle and Foot Pathology" and "Conventional Radiology of Ankle and Foot" organised by Indian Foot Society in 2002.
Delivered lectures in "Role of MRI in Female Pelvis" at Panhala Kolhapur CME organised by GE, 2004
Delivered lecture and Conducted workshop in "High Resolution Ankle Ultrasound" at Panhala, Kolhapur CME organised by GE, 2004.