The Indian Practitioner Reinvents Itself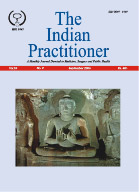 The medical practitioner in India has changed. And so has The Indian Practitioner, your dependable partner in practice, who has served you without interruption for over six decades. The old saying goes, life begins at forty. The Indian Practitioner has rewritten it, if only to prove that life indeed does begin and even goes great guns after sixty.
If you think you know The Indian Practitioner, you are absolutely right, but only partly. You don't know The Indian Practitioner today, unless you have seen it all afresh, with your own eyes. The Indian Practitioner believes in serving with focus the medical practitioner at the family level, and it has reinvented itself admirably towards that end with a whole new content and a whole new style.
The Indian Practitioner has now become totally reader-friendly and practice-friendly, what with thought-provoking editorials, introspective Wellness pages, and yes, a dazzling kaleidoscope all set to deliver the latest and most authentic pearls of clinical wisdom and scientific breakthroughs right on your desktop. The new editorial policy of this doyen of medical journalism is to encourage anything and everything that will help you and your patients in the rapidly moving global economy of the twentyfirst century with all its attendant turbulences and eddy currents that make you and your patients not only sit up and notice, but also to question and get convinced.
The Indian Practitioner also knows that old remains gold, no matter which way the global winds blow, so it has kept the best of the past going for you, in the form of original articles, case studies, reviews, what have you. And it has good news for sponsoring agencies too - it offers the most attractive terms for scientific dissemination of their data with utmost speed.
All in all, the vibrancy of the new Indian Practitioner must be seen to be believed. Try it.